Yes, your hair needs sun protection too! 
Summer proof your hair and skin all season with Aveda. Rewards members, get double points on all Sun Care and Color Conserve products. With these two systems, you can protect your hair and skin before, during and after sun exposure.
Offer for rewards members only. Cannot be combined with any other offer. Offer valid July 1, 2019 - August 15, 2019.
Rewards members can earn one point for every dollar spent on products and services. Save enough points to redeem a $50 gift card. Want to join the Adolf Biecker Rewards Program? Click here for more information.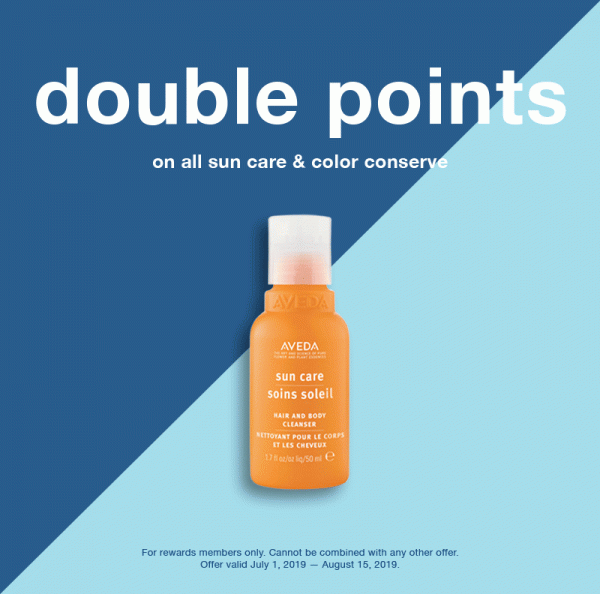 The Benefits
Aveda Sun Care System helps protect against sun, salt and chlorine damage with sun care UV defense and recovery system. 
Hair and Body Cleanser: Cleanser gently removes chlorine, salt and product build-up while helping maintain moisture balance on all hair types.
After-Sun Hair Masque: Masque moisturizes and revives sun-exposed hair.
Protective Hair Veil: Helps protect hair from sun exposure and minimizes color damage and dryness.
Have color treated hair? The sun can shift hair color. Aveda Color Conserve System helps preserve color vibrancy and prevent fading. 
Shampoo and Conditioner: Helps cleanse and condition color-treated hair
Daily Color Protect: Daily leave-in treatment that intensifies color radiance
Strengthening Treatment: Helps power your color